Not to be deterred by Covid-19, we continue to have guest speakers!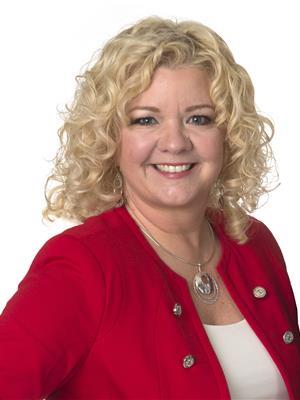 Ana introduced our speaker for today, Jackie Blakney. Ana met Jackie through BNI and became friends and business colleagues then introduced her to Rotary.

Jackie is a real estate broker and has loved real estate since she was young. She bought her first house at the age of 18! Jackie served as a law clerk for 20 years in real estate, all the while raising two kids on her own. The last 15 years she has been selling real estate. People ask her why - she simply responds I had two kids and a mortgage to pay! Jackie had nine people working in her office. They sold 165 homes last year but she wanted to bring a more personal touch to her business, so she's downsized to a team including her sister, her two sons and a full-time assistant located at Remax Finest on Gardiners Road.

Jackie thought everyone wanted to know how real estate was managing during the Covid crisis. Several government bodies regulate real estate - new clauses are present in every offer. There is a chance that the registry office might be closed to process transactions and allowances are made for this. Interactions with people now mean masks, gloves, buyer and seller declarations, and acknowledgement of the risks of open houses. Although a lot is done virtually Jackie cautioned that buying a house totally over the Internet is not a good idea. When showing a home now sellers are asked to turn on the lights, leave the doors open, some of the cupboards open, and the perspective buyers are only allowed to touch the doorknobs which are cleaned often. Buyers even leave their shoes outside. Jackie also belongs to an organization of the top 100 Remax agents across Canada. They chat daily about ways to meet the challenges. She doesn't listen to the news much but the phones are ringing, probably because Canadians are not good at being cooped up. We have withstood that for 30 to 45 days, but now people need to move and real estate is an essential service. Jackie continues to offer services like grocery delivery to senior clients - she has some clients in care homes and arranged for a delivery of chocolate recently to one of them. One of the great things is how we're helping each other, and and she is actually enjoying spring for the first time in a long time because it's usually her busiest season. She thinks there may be a surge coming - she has 20 listings ready to go and some people just can't wait. There are still bidding wars although instead of ten bidders we now have two or three.

Questions? John Farrow asked what is the status of the military? Jackie functions as a rental agent as well as a sales agent for military. Transactions that were already in process have been completed and the leaders are moving regardless of the Covid crisis. She said that the effect on the Kingston real estate market market is not as big as you think.
John also asked the difference between a broker and an agent. Jackie responded after becoming an agent there is an education process to get to be a broker - you can then become our broker manager and a broker owner when you own real estate brokerage.

Greg Mumford asked about her partner Tim? They are separate now. Jackie figures she has about 10 years left in real estate and it was a business decision to downsize.

Bill Egnatoff asked if Jackie has mentored other agents? Jackie responded she mentors both clients and agents - she gives lots of new agents advice and they share forms and good ideas. She learns from her daily interactions with customers and shares them with her team. Real estate is full of problems and she learns every day how to handle those. Some day she will write a book about mushrooms, bats, and buried logs!

Martin asked how does it affect your family time? Jackie said it's tough when you're a single mom - you need to learn to set time aside for yourself. She once had a seller call her on Christmas Eve but politely rebuffed them. She's never worked on Easter, Thanksgiving or Christmas. Jackie is part of a large family which matters to her a lot - she shares this with her team and she tells her sons "don't be like me"!
Thanks for a great talk Jackie!