John Farrow introduced Tom Hewitt, Nour Mazloum, and Erica McIlquham this morning to give us an update on the Queen's Career Apprenticeship Program (QCAP). In the first year of the program Tom had come to speak to our club (about two years ago), so it was timely for them to come back and report on the results.
Tom thanked us for the invitation and briefly spoke on his role as Chief Development Officer and his 30 years experience in fund raising for hospitals and universities. Tom also reviewed that there are too many arts graduates in Kingston leaving Queen's without meaningful work (and often a pile of debt). Arts graduates offer much to employers - critical thinking, communications skills, problem solving skills, flexibility, adaptability, and digital literacy. QCAP empowers firms in Kingston to hire and keep Queen's grads in Kingston by offering subsidies of up to $4,000 per month for the first four months of the first year of guaranteed employment. This comes from the largesse of Alan Rottenberg, father of a Queen's grad who invested some of his considerable fortune in a foundation to provide funds for the program. Alan sits on the advisory group with representatives from Queen's and KEDCO.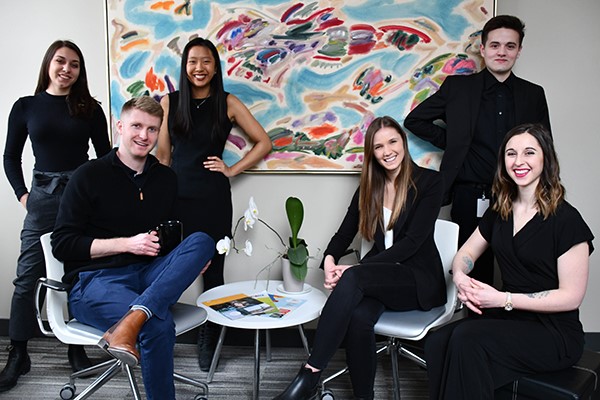 QCAP launched in 2018 with 10 students, then expanded to 20 in 2019. This year's ambitious goal is jobs for 40 students. Firms need to be at least 5 employees to qualify, and jobs should be posted by January 30th. Students have until February 13th to apply and following interviews and selection, students begin work in May. Results from the first two years are promising - 25 students have found permanent work, attracting $1 million in investment and generating $3 million in new payroll. All of it in Kingston, and all high quality jobs! Nour herself is a success story of QCAP - she secured a communications position with KEDCO and is enjoying her work there.
If you are interested in getting involved, think about how your business could benefit from a recent graduate as part of your workforce. Spread the word to prospective employers (deadline is January 30th). If you need more information, go toKingstonEcDev.com/QCAK, or email Nour at mazloum@kingstoncanada.com.
One questions asked was what is the long-term future of the program? How long will it be funded. Mr. Rottenberg is looking to expand to other universities, and is approaching other philanthropists to help in the expansion. At some point Tom said perhaps the value will be seen and the subsidies may not even be necessary. Bill Egnatoff suggested there could possibly be a tie in with a new Rotaract Club.
John Gales thanked our presenters for coming and updating us on this innovative and important program.